Do Facebook ads annoy you? We know, yes they do. Have you ever watched an ad till the end? This is rare unless it is a Facebook canvas ad now known as an "instant experience " ad. The ads are immersive and can capture the user's attention effectively.
Facebook canvas ads or instant experience ads are better when it comes to audience engagement. Facebook is among the top social media platforms for advertising with 93% of advertisers using Facebook ads. Here, in this article, we will shed some light on Facebook canvas ads, its specs, examples, and how to create one on Facebook. Let us first talk about what a Facebook canvas ad is.
Credits to YouTube / Coca Cola
What is a Facebook Canvas Ad?
According to Facebook, "canvas is a full-screen ad experience built for bringing brands and products to life on mobile". Yes, these ads are mobile-only pieces. With the popularity of mobile Facebook apps, canvas ads act as a medium to keep people engaged without having to exit the app and going to a separate landing page during browsing.
Canvas ads are targeted towards achieving goals through mobile because they are quick and easy. When you look at a canvas ad for the first time you could probably confuse it for a regular news feed ad. But, after clicking, it fully covers the screen of your mobile device, giving viewers an 'immersive interaction'.
Canvas ads enable a brand to communicate a message through storytelling. It combines images, videos, GIFs, text, products, and carousels all within a single ad format. You can use any medium you like. Therefore, if you are interested to advertise on Facebook, creating an instant experience ad or canvas ad is a great way for your advertising campaign. Let's dive in to know more about the specs of canvas ads.
Jeep / TymeStyle Ad from AdWeek
What are the specs for a Facebook canvas ad?
Facebook Canvas ads are powerful propellers for your advertising campaign. These canvases can load up to ten times faster than standard ads. You can use canvas in the different ad formats. It allows you to add many components combinedly like videos, images, slideshows, texts, clickable buttons, headers, carousels etc.
Facebook Canva ads can use up to 20 images or videos in each ad. Hence, before creating Facebook Canvas ads we should learn about the basic design specs. 
Video

– Files types for videos can be mp4 or mov. A resolution of minimum 720pixel is advised. The aspect ratio can be 1.78:1, which gives you a full screen on mobile phones. Although you can still change it if you like. Portrait orientation is recommended because if landscape is used it leads the video to shrink and have black bars on either side. Coming to the run time, it should not be more than 2 minutes because it affects the optimal loading speed. You can use multiple videos and select a thumbnail that will serve as the face of your video (the first image that the audience sees). 
Images

– These should have a minimum image size of 400 pixels wide and 150 pixels high. The maximum image size can go up to 1080 pixels wide by 1920 pixels high. If using the tilt to pan option the height can go up to an image size of 5400 pixels wide. This gives you a full-screen experience. The tilt to pan option takes care of the image size and quality as well. File types should be jpg and png. The ratio is not defined, as the images tend to use the full width of the screen. Images can contain text which forms 20% of the image.
Text

– Adding text is a good thing but overdoing it can make your ad clumsy. It is better to keep the text short and catchy. But, you can still add up to 500 words in each separate text component.
These ideas can definitely guide you through the process of creating a Facebook canvas ad. However, this is not sufficient. We will now take you through the details of how to create one for yourself. 
How to create Facebook Canvas Ads?
After making up your mind to create a Facebook canvas ad, follow the outline below to get started:
Login to Facebook, and if you don't have an account for your business yet, create one immediately. After you log in, head straight away to your Facebook Ads Manager and click on "Create New Campaign".
While creating a Facebook canvas ad think about what your end goal or objective is whether it is conversions, traffic or brand awareness. Then select your marketing objective.

For instance, if you choose "brand awareness", then you have to scroll down and name your campaign and then click "Continue". Naming your campaign and selecting the objective is the second step in creating a Facebook canvas ad.

The third step is to fill in details about your budget, audience, scheduling selections for your ad, and the format of your ad. It could be a video, image, carousel, slideshow etc. For the full-screen setting choose "collection".
Click on the checkbox "Add an Instant Experience". This is where you start the real task. Though it might seem daunting it is easy. You can select from the template sections or make your own custom ad from scratch. It is always better to customise it if you want full control over design and layout.Create your own CTA, add your colours, upload a video, add carousels, headers, images and anything that you wish to and also that which can showcase your motives clearly.
There will be previews as you edit your work, so select components you like to add and choose how they fit a mobile screen. Consider naming each creative component as it is easier to identify later on if you would like to make any alterations.
Once you are done click "save" and after previewing it click "share". If you are happy with it, click "Finish" and it is all set to roll – out.
Congratulations! Your canvas ad is ready for the world to see.
However, creating a canvas ad for the first time can be a tedious job and that is why we have a few effective tips that you can be mindful of.
Tips and tricks to create a canvas ad-
Make a smashing entry

– This might sound like a lead actor entering the scene to beat up goons, but, in canvas ads, it is the first image that builds an impression that stays throughout the ad. So, make it count. Whatever your first slide is (image, text, video) try to make it interesting so that the user is glued to the ad.

Make the best use of the format

– Canvas ads have a very exciting format that sets it apart from other ads. Then why not use it as an advantage! Work on integrating videos, texts and images to give a superb effect to your ad.

Build up excitement

– Nobody will scroll through your ad if they find it boring. Add surprising elements to maintain the users' curiosity, so that they stick to the ad. If there is a lot of information to convey use videos and try to avoid texts as much as possible.

Emphasize on clarity

– No doubt, you can add many features that can make your ad pleasing to watch, yet it is recommended to keep your message simple and clear. There should be a single point that is highlighted throughout the video instead of many tools that are complicated.

Strong "Call to Action"

– Many people prefer to add a CTA at the end of the ad. But here, in canvas ads, you can add clickable buttons on as many slides as you want. This should be integrated properly to enhance the overall experience of the user.

Tell a Story

– Stories can be imprinted on our minds like nothing else. By following the art of storytelling you can make sure that users stick with the canvas ad till the end. In addition to that, they will also remember the ad which will give you conversions that you desire.

Include visual and textual cues

– Visual and textual cues lead users through the video showing them where they should click and swipe. For example, you can use arrows or text-based CTAs like "swipe right for more" or "keep scrolling" for retaining your audience. The audience can interact with the canvas ad and make them feel like this is for them.
With all these tips, you are ready to nail the canvas ad, but to give you some specific ideas let us look at a few examples.
Examples of Facebook Canvas Ads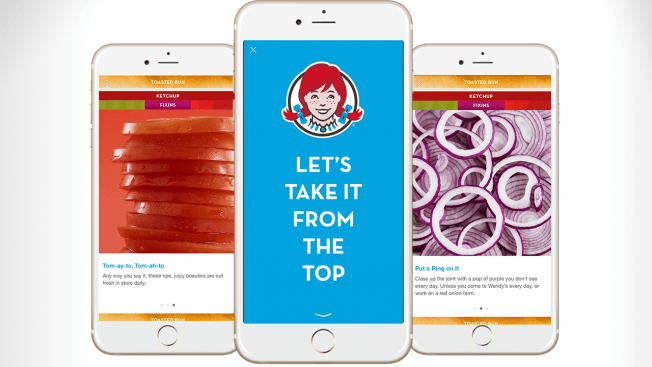 Wendy's Famous Cheeseburger ad- This was the first canvas campaign by Wendy's. They totally nailed the format. They also showed their users how they make their delicious cheeseburgers by taking them through the various ingredients by scrolling and swiping till the end. This was a fun way to create a cheeseburger ad layer by layer that led viewers to drool over it.

Coca-Cola's first aluminum bottle- First, a cheeseburger and now Coca-Cola! We hope you must be having a really inspiring read. It is the first canvas ad by the company which was used to release its new aluminum bottle product. Here, you can see customers drinking from the bottle and how a time-lapse in the end along with a mural containing the new design is infused into it.


Gatorade's Ode to Serena Williams – The tennis champion after winning her 21st grand slam title served as a motivation for Gatorade. They commissioned 21 new and unique art piece designs for a mural in New York. Gatorade's first canvas ad gave viewers a behind the scenes of the project. This gave the company huge fan attention and helped the advertising.

Burberry's holiday gift lookbook – Burberry made the best use of Facebook canvas ads in the holiday season. It created a video ad that gave the audience a sneak peek at the new products in a scroll down style. It also had some text which described the products.
L'OCCITANE's ingredient tour- Their canvas ad described the story behind how their products are curated from different parts of the world. The story is built up by taking viewers across various screens, showing the ingredient tour and including a Call to Action or CTA button. This develops the users' interest to shop for the gift sets. The main takeaway from this ad is how a fascinating story can charm your viewers to take action.

These simple yet captivating ads have the capacity to draw your viewers' attention and traffic to your brand.
Create your own customised videos and ads with OFFEO, where you don't need any prior design experience. This is the best platform which gives you ready-made templates that can be customised according to your needs. These templates can be used in creating your canvas ad. You can also create stunning videos in no time with our drag and drop interface. OFFEO's video maker can help you make perfect ads that can amplify your canvas ad.
This is free of cost and does not demand any technical skills. With over thousands of templates, you can create your desired content. Add texts, colours, graphics, GIFs to your content and make it impressive. The editor is really manageable and user friendly with so many tools to spice up your work. After you are done just save it and export. Go ahead and use OFFEO to edit and create incredible content without breaking the bank.