Best apps to create social media video
Until social media came along there was no such thing as viral. But in 2005, YouTube came along, and soon after that in 2009, the term viral was used for the first time. A video called "David after the Dentist" became viral.
It is the video of a young boy who is high after his appointment with the dentist because of the medicines. The video gained millions of views and also became a meme. That was just the beginning of the social media phenomenon. Social media made it easy for people to share their lives. The audience became more and more interested in video content. Because dynamic videos became more exciting than static pictures.
In this age of social media where every other person has joined Facebook or Instagram, video has become an integral part of our lives. Even marketers are beginning to see that video marketing is the way to go. The human brain responds to movement, so if you place a video in a static background, most of the audience's attention will be diverted to the video. In 2021 according to Wyzowl, 86% of businesses rely on video as a marketing tool. For marketers video is an essential marketing strategy, they believe that users retain 95% of the message through a video. Here is why you should start using social media video marketing for your business-
It is more impactful than static images
Marketers believe it results in more ROI
It also increases sales
It routes more traffic to your website.
It creates a bond with the audience
Every business needs to leverage social media platforms. But to create videos that appeal to the audience you need video editing apps and tools. In this post, we have curated a list of tools that will help you create awesome videos- starting from recording tools to editing tools.
Adobe Premiere Pro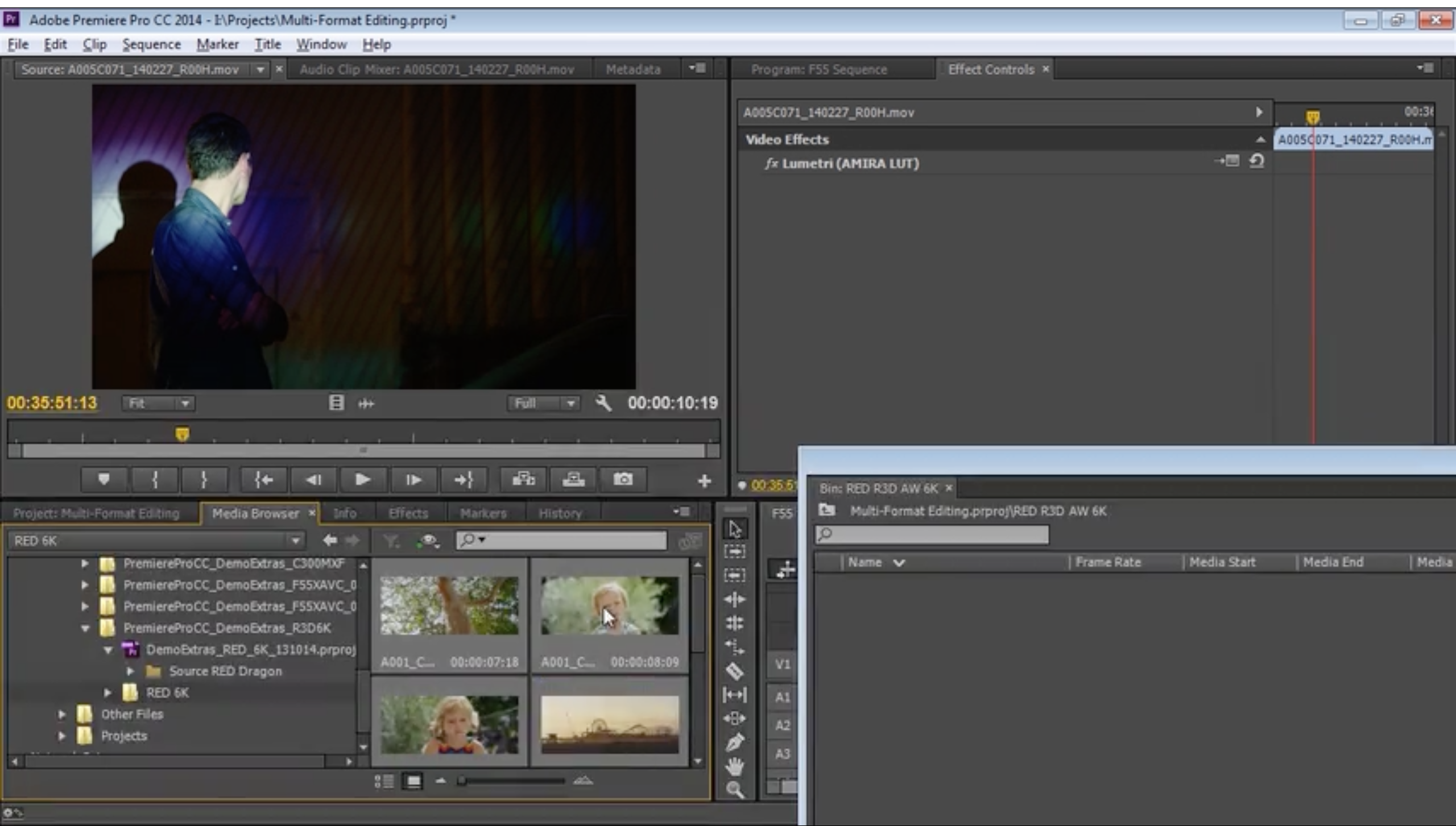 Aside Premiere Pro is the giant of video editing. If you want professional-looking videos then the is the video editing app to go for. It is used by video editors who are more experienced and want high-quality videos. This incredible tool can help to fine-tune the audio, adjust the colors, and do more to create professional-looking results. Its many features include –
Virtual reality support for advanced assistance
Responsive User Interface to edit videos
It is integrated with other Adobe products resulting in smoother workflows
Can support various file formats
Hasslefree editing because it can open a variety of projects at the same time
All these advanced features make Adobe Premiere Pro the best video editing tool there is. However, if you are in a rush and want to create videos fast then you should choose another app. Adobe Premiere Pro is for professionals who have already a basic idea about video editing. It is not a mobile app but a desktop app that can transform raw video clips into incredibly amazing professional videos.
Magisto Video editor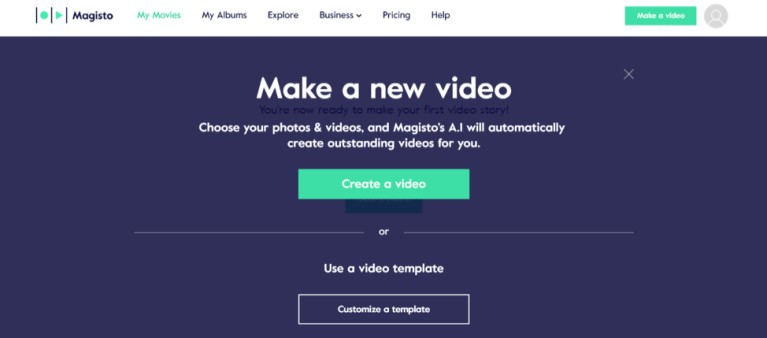 While Adobe Premiere Pro may be a tool for weathered video editors Magisto is a tool for all. An influencer can easily use it so can a teenager just trying to figure out social media. Magisto is available in both a web-based as well as a mobile app. Moreover, it is a free video editing app. It supports photo uploads, HD movie downloads and has premium editing styles. Here are some features of Magisto which make it one of the best free editing tools in the market –
It is powered by AI and designed to be reliable
Video clips can be edited and rearranged, and longer movies can be created.
It has multiple themes to choose from
Magisto's library has an amazing collection of audio as well
You can add attractive blogs and captions to the video
It supports the hosting and distribution of video content across different channels.
The reason why Magisto is so incredibly popular among people is that it is easy to use. You do not have to be a video editor or a professional to use Magisto. On top of the ease of use, the free version of Magisto makes it more accessible to users. Magisto video maker is a great option for video marketers on the go because it creates videos that are optimized for content marketing platforms, social media, video advertising, and email marketing.
InShot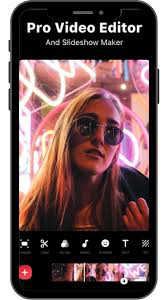 Social media video apps are plenty in number, but InShot holds a special place in the list because of its popularity. There are not many guides or instructions about how to use InShot. But it is pretty easy to use. However, one can't record a video on InShot, you can do video editing but video creation/recording is out of the question. Below we have mentioned a few features of InShot which makes it one of the best video editing apps.
Even though InShot is one of the social media video apps it had excellent video manipulation ability, you can duplicate, split and increase/ decrease the speed of the video.
The Canvas option gives you more freedom orientation options like you can adjust your video for Facebook, Instagram, or even your iPhone.
There are many filters available in the video editor to choose from.
InShot is not only a video editor but also a photo editing app.
Stickers and texts are also a feature. You can add it to your taste.
You can also import audio or use sound available in the gallery.
InShot is a famous video app because it creates stunning videos for social media channels. There is a free and paid version of the app. If you want to unlock all the features, like more filters and video effects then InShot Pro is the app's premium version. It has three price tiers: $3.99 per month; $14.99 per year, which includes a three-day trial; or a one-time charge of $34.99 for lifetime access.
FilmoraGo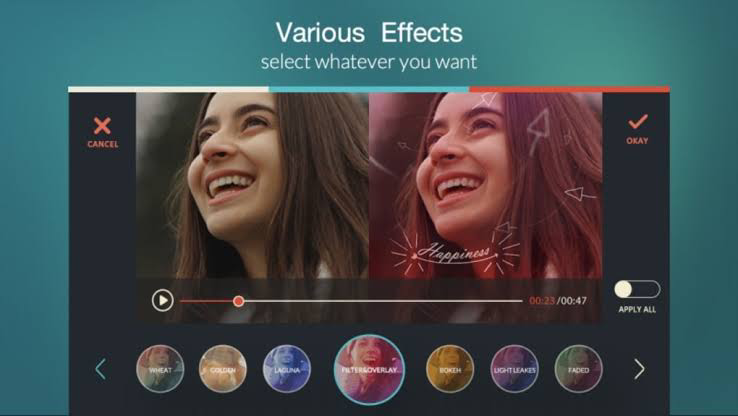 Social media marketing requires sharing catchy and attractive videos. But one can't always hire an editor to do the job. Wonders hare's FilmoraGo is for people who aren't well-versed in video editing. If you are in a hurry and do not have time for giant video production, then FilmoraGo is your answer. Here are some features which make FilmoraGo a user-friendly video editing tool –
It has simple interface interaction and UI design.
It has a variety of themes to choose from like Xmas, Chaplin, Love, Concert, etc
It has royalty-free music in its library
It has all essential photo editing tools like trimming, overlay, duplicate, etc.
FilmoraGo is a video editor best suited for android. If you want to create impressive videos for loved ones then this great app with a user-friendly interface will do the job.
Wave Video Editor

Social media videos not only mean Instagram Stories videos but also YouTube Videos, Videos for your Website, and Video emails. While other video editing apps may be meant for amateurs, Wave Video editor is for marketers who want to make an impact. Wave is a video marketing platform that combines a first-rate online editing toolkit, cloud-based video hosting, and a landing page builder in one place. However, it also has a few drawbacks.
It supports both short-form and long-form videos.
Auto-captions with customizable styles
It has over 200M stock video clips and stock images
Automatically resize videos for 30+ video formats
Primary editing features: trim, drag-and-drop, transitions, color control, stickers & GIFs
It has 30+ customizable video layouts
It has over 300 000 commercially licensed music tracks
In-place text editor with animation effects
•Ability to publish videos on any marketing channel
1000 ready-to-use video templates for any occasion
Wave is suitable for making, repurposing, and publishing videos on websites, blogs, social media, and email. It's a social media video maker that has the ability to create long-form videos.
Adobe Premiere Rush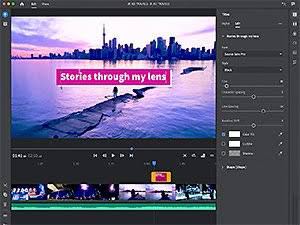 As the name suggests Adobe Premiere Rush is to catalyze the video editing process. It is suitable for vloggers and social media influencers who are always in a hurry to make social media posts. Adobe now has three video editors, one is Premiere Pro for the professionals, Premiere Elements for amateurs and hobbyists. But Adobe Premiere Rush is for anyone who is on the go. Rush makes video creation easy because of its amazing features
It has both a mobile app version and a desktop app version.
Rush's layout and workspace are clean and chronological. It's a delight to work in.
It has pre-installed templates, and you can search Adobe Stock for more
Easy drag and drop feature for easy titles
Simple short and sweet transition options: None; Cross Dissolve; Dip to Black; and Dip to White. 
The color tool gives access to preset filters, so you can edit even when I hurry
You can free audio files to the video, and add voiceovers as well.
It has five options for media export, out of which 4 are social media platforms like Facebook, Tiktok, Behance, and YouTube
Rush lives up to its demand of being the all-in-one Video editing tool for online video creators. It s the best option for people who do not want to spend much time in front of a screen. However, those who want to fine-tune the video can use the Project Sync feature which makes it possible to start an edit in Rush then send it to Pro.
Clipchamp Create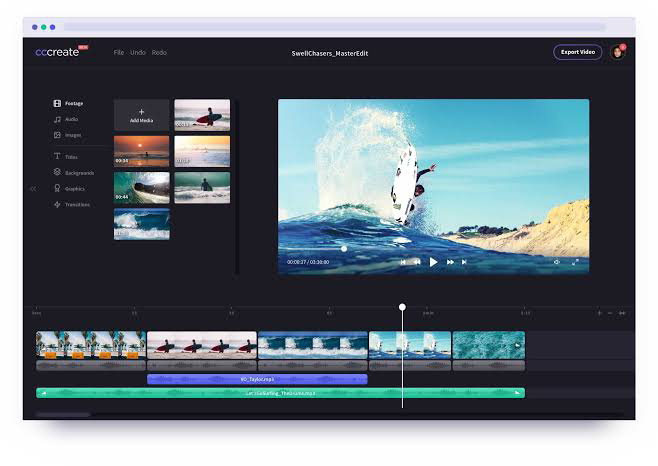 Clipchamp is the new kid in the block of social media video apps. It is an amazing option for anyone with no background in editing. On top of that, there is a free version of the app, you can try out. This app has had many mixed reviews but if you are looking for a free app, other than Magisto and InShot, then this is the app for you. Some of its creatures are mentioned below –
You can do unlimited video exports
It has both free and paid plans. Some features are available for only paid plans.
Unlimited audio stock and sound effects
For a Business Plan, you can have Custom Branding and Cloud media backup.
Has basic video editing features like Video speed controller, merge video, and split video
This app is beginner-friendly. If you are just trying your hands in editing, then Clipchamp can be helpful. It is easy to use and the UI is minimalistic.
Hyperlapse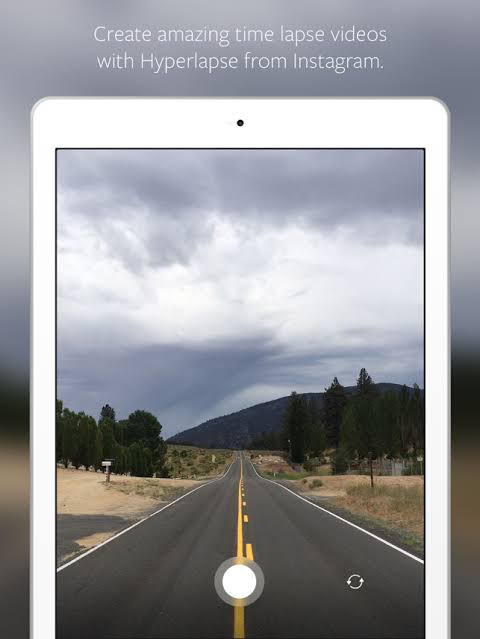 In 2014, Instagram rolled out Hyperlapse and changed the way we would do time-lapse videos forever. This intuitive video app makes it easy to record videos at high speed, almost 12X faster. On top of that, you can also use this app to normally record a video. Get a Scorsese movie effect without buying the Extra equipment. Here are some cool features of Hyperlapse you can exploit.
Great image stabilization helps you shoot remarkably smooth and steady videos.
Record normally and change the speed from 1x to 12x speed to adjust the effect in your videos.
It has a simple User Interface and has few features
The drawback is it is only good at creating time-lapse videos. Other than that, the features are few and scanty. There is nothing much you can do with this video editing app. It can be a feature in an app, rather than a whole app. However, it is free and you can download and use it whenever you want.
Offeo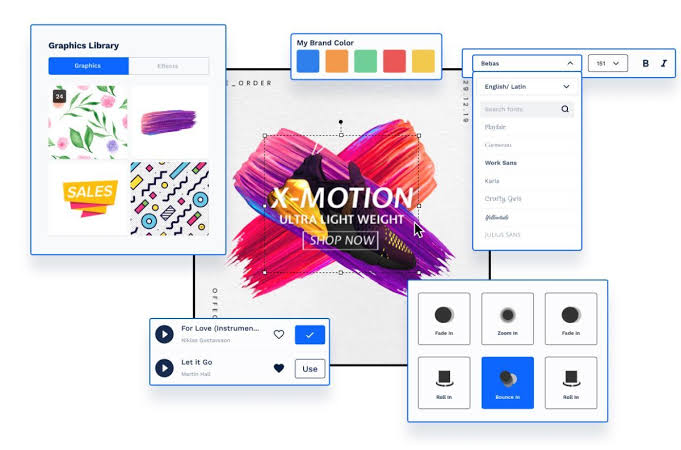 Offeo is not a social media video app but a web-based video-making platform that can create catchy and scroll-stopping shirt videos in minutes. It is perfect to create social media ads. You do not need prior visiting experience to use Offeo. Here are the features that make Offeo the favorite social media video maker among the non-techy
Offeo is vast, it has many features from Promo Maker, Ad maker to Intro maker and animation maker.
The creation time is minutes. You can make your videos in literally minutes after you log in.
Thousands of Unique and impactful video templates to choose from. Never before used template ideas that are customizable.
Gorgeous text /font types to choose from.
Geniemate is the automatic one-click animation effect you can use to create revolutionary videos.
It has an intuitive interface that makes the product super easy to use
Pricing is very competitive
It has a wide range of stock videos and audio
Easy export option
You can create video ads, promos, and teasers from nothing but pictures.
Tech support is highly responsive.
The possibilities are endless with Offeo meaning it has multiple features to create social media videos for your brand.
It is an accomplished, polished, and professional product- that delivers amazing video and animated videos as well. This tool is a must for any entrepreneur, blogger, business, or agency. It but only saves time but money. Thus increasing your productivity. The best thing about Offeo is audience also loves it! You can create impressive and impactful social media videos through Offeo. Here is a short video on Basics of Offeo – https://youtube.com/playlist?list=PLQw7lcXRHdzRO1Mk1JAqfXV1p1_DyoR1Q
Animoto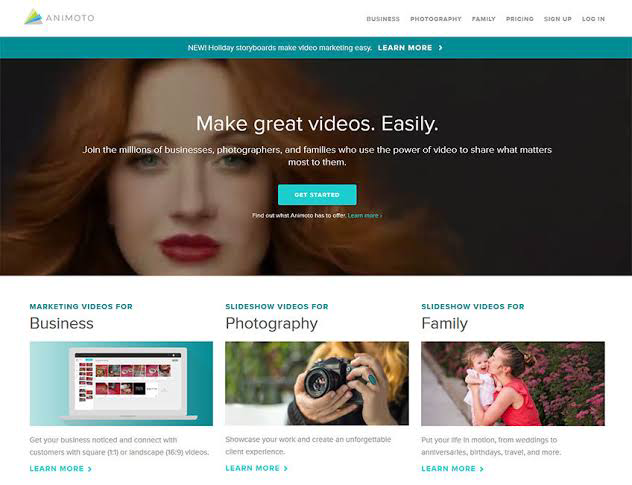 While making professional-looking videos we use Adobe Premier Pro, there are times when we need to churn out flashy videos quickly for social media. In times like this, Animoto comes into play. You can use various media files and create compelling videos. Animoto is for the non-techy people who don't want the hassle of going through a video editor, it is for all those who want the video content fast! This tool has many excellent features which make it one of the most sought out social media tools.
It is user-friendly meaning anyone can use it. The interface is intuitive.
Option to create a slideshow or a marketing project.
The tool has over 3000 licensed music tracks
It has a pre-built marketing storyboard and Multiple memories styles
Excellent Font library with exceptional font styles
Color customization is available for videos
Select from Landscape & square videos option for various social media platforms
Animoto is widely used because it can work well on Desktop devices, Android devices, tablets, and the iPhone. However, recently the pricing of the product has been going high and customers aren't happy about it. Keeping that aside Animoto is a tool you would want in your corner to create video content fast.
Adobe Spark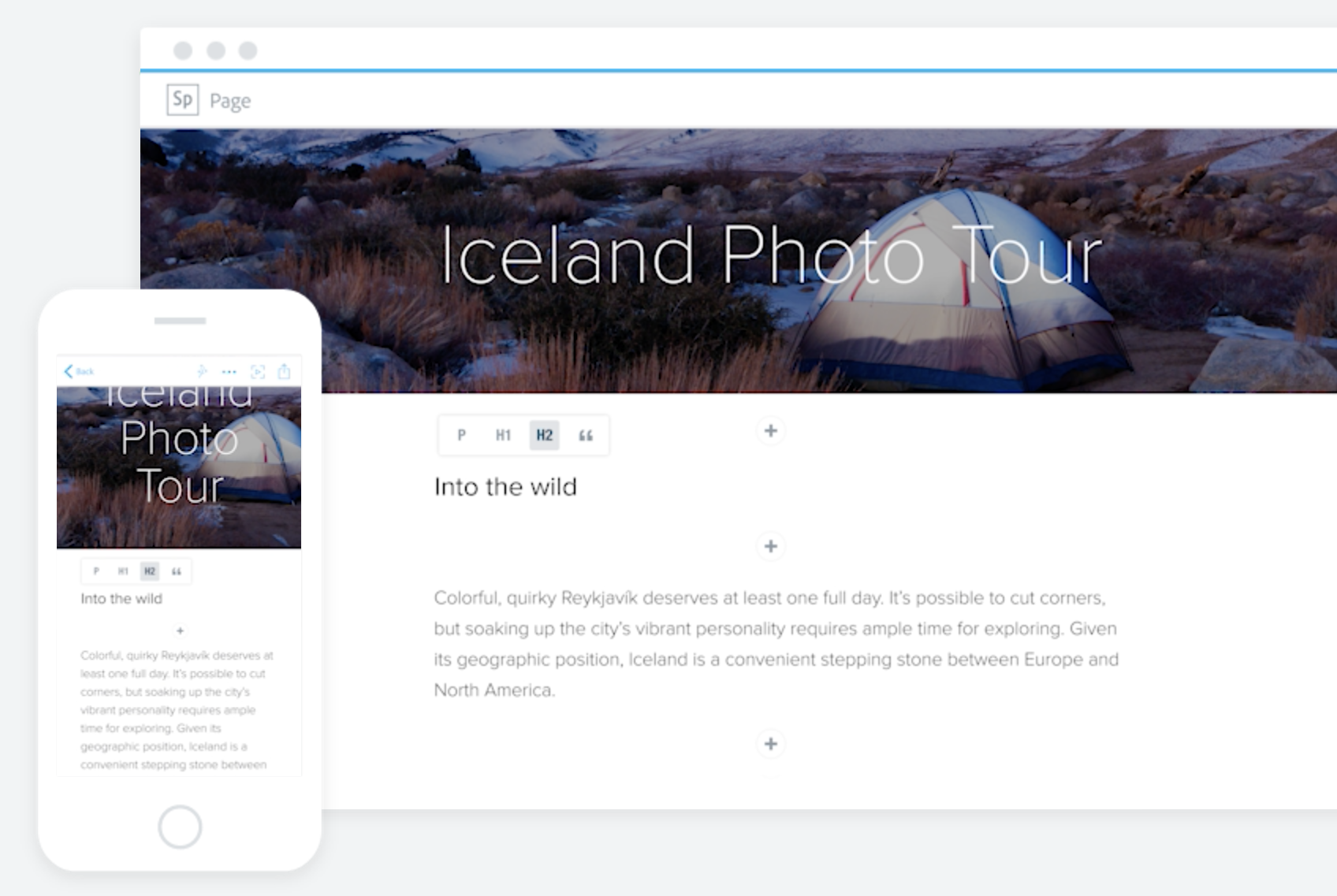 Adobe is rumored to be hard to learn. Features with a steep learning curve have made it difficult for new learners. However, thanks to Spark video creating has become easier. It is perfect for creating social media posts like Instagram stories, Facebook posts, presentations, etc. If the project is simple with one page then Spark can be used to make it. Spark has many interesting creatures which make it more than a video creator –
It is simple to use and beginner-friendly.
It has three-tier features -Post, Video, and page
Spark posts can make beautiful graphics in seconds. You can use it for online announcements, blog post images, social media posts, Facebook ads, or even as banners for your various social media profiles.
With Spark video, you can make create eye-catching videos.
Spark video has basic video templates, audio clips, texts, captions, animations, images, and effects you can use.
It also supports square video format that rules social media.
Spark page is an intelligent tool that can help you build a single-page site that combines a variety of different media elements like, video, photos, animations, text, and more.
Adobe Spark is a three-tier tool you can use not only to create social media videos but also to build an online brand identity. It is the total package for anyone looking to make an impact online. Small businesses can profit immensely from this tool.
Shotcut
If you can't afford expensive editing software then Shotcut is your answer. It is free and open-source software. This means that developers from around the world can contribute to the software. Even though it is free, the only price you have to pay is learning. This tool has a steep learning curve. It is packed with features for everyone to learn from. The features mentioned on its official website includes-
Video compositing across video tracks
Multiple transition effects
Range of filters to choose from
3-way (shadows, mids, highlights) color wheels for color correction and grading
Eyedropper tool to pick neutral color for white balancing
Deinterlacing
Fade in/out the audio and fade video from and to black with easy-to-use fader controls on the timeline
Supports the latest audio and video formats.
Support for 4K resolutions
Cross-platform support: available on Windows, Linux, and macOS)
Easy-to-use cut, copy and paste operations
Multitrack timeline with thumbnails and waveforms
Shotcut might be a complex tool to use. It has many basics and essentials of video editing and also has some advanced features as well. You can watch various tutorials on the editor to learn the ins and outs of the software.
Conclusion
As soon as WiFi and Instagram became a thing, the video became a prime content type on social media. Even though the internet is flooded with varieties of social media video apps you need to choose your tool carefully. If you want to edit explainer videos then Adobe Premiere Pro would be your best choice. But if you wanna create some mind-blowing, captivating, and engaging short social media videos Offeo is the best option. Try out Offeo Animation Maker to make animated videos with just a click!