Animation Maker
Bring your Ideas to life.
OFFEO's animation maker allows you to create professional
animated videos without any graphic design experience.
Animation Maker
Bring your logo to life! Impress your audiences with our free animation maker.
Suitable for Youtube, Facebook, Instagram, Linkedin and other social media platforms too.
Choose a design and get started with free animation maker.
Share it with your friends on your social media!
See more designs
Looking for something else?
Here are some products video designs to help you get started easily. Suitable for Facebook/Instagram Feeds
Select
Is your product close to a work of art? Try using this product intro inspired by an art canvas.
Select
Minimalist product intro with one solid background color. Change the color to something that complements your brand.
Bring your slideshow to the next level
Present with style. Let your video do the talking. With our ready made designs, creating a great slideshow video is really easy.
See more designs
With Animation Maker, all the tools you need are right here
OFFEO's animation maker provides you with a huge selection of images and graphic design features that you can mix and match to create an animation that fits your needs.
Create your video in
4 easy steps
1
Log on to OFFEO and get started.
Register your free account or login using Facebook or Google.
2
Choose a template from the
"Design" tab as a starting point.
3
Use our wide selection of infographics, motion graphics,
and images from the "Elements" menu to make the animation your own.
4
Add transitions and other animation effects to make your animation attention grabbing.
5
Once you are good with the Live preview, let our animation maker process your clip for you!
Use our animation maker for
Presentations, Promotions and Fun
There are many different uses for animated videos, and OFFEO gives you the opportunity to explore all of them!
Choose a template that fits your purpose from our huge selection, and add graphics from our library to transform it into the animation of your dreams.
You can use your clip for marketing, social media, or personal purposes - it's entirely up to you.
Get Started - Free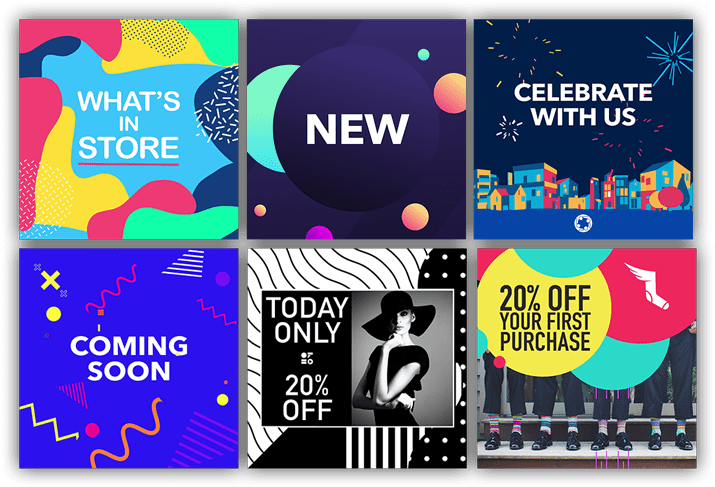 No Coding or Design
experience necessary
Most people think that creating a professional-level animation requires graphic design experience.
Not with OFFEO's animation maker!
Our simple, clear templates and drag-and-drop image and video library will make you animation experience quick and easy. You'll end up with a stunning, high quality animation in a matter of minutes.
Create engaging marketing material
Using an animation to publicize your business ideas can help you reach a wider audience.
Animations can bring your ideas or products to life, and our animation maker gives you the opportunity to create promotional material that truly engages your audience.
Create Video
FAQ
1. How much can I modify the animation template I start with?
As much as you'd like! Change the background, texts, color, animation and more. OFFEO gives you the design flexibility to tweak the design as much as you want.
2. What if I have issues with my animation after downloading it from OFFEO?
Your video project will be saved on your OFFEO account. If you need to re-download or modify any files, simply log back into your account and select the project that you need to access.
3. Can I start my animation without a template?
You can either start from scratch or get inspired and save time with our designer templates. If you browse through our selection, you'll find that we have templates for a wide variety of purposes and audiences, so check to see if there is one that fits your needs. If there isn't, let us know and we'll try to expand our range of templates.
4. Are the images in your animation library copyrighted?
The images and infographics in our library are for your use, and OFFEO gives you permission to use them in your animation the moment you sign up to our platform. Because of this, you won't run into copyright issues by incorporating our images into your animation clip.